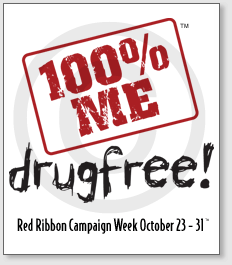 Red Ribbon Week is a national event, held the last week of every October, honoring Enrique "Kiki" Camarena, a Drug Enforcement Administration special agent who was killed in 1985 by drug traffickers. Soon after, "Camarena Clubs" were launched in high schools in California, and hundreds of students pledged to lead drug-free lives. Two club members presented the "Camarena Club Proclamation" to then first lady Nancy Reagan, bringing it national attention. Parent groups embraced the campaign, and in 1988, Congress proclaimed the first U.S. Red Ribbon Campaign. The mission of the Red Ribbon Campaign is to bring schools, employers, communities and families together in a visible unification for the goal of a drug-free America.
Each year Mid-Coast Family Services designs and implements programming based on need and available resources to impact our community with the drug free message during this week of national recognition. During the 2013 school year, a variety of information and activities were provided to area schools. Also, the agency collaborated with The Texas Zoo to provide drug-free activities and programming for the community.
For more information, visit Red Ribbon's Official Website or National Family Partnership web sites.